About us:
Kartik Refrigeration is one of the leading manufacturers of Chillers for Laser Industries, Medical Industries and Semiconductor Segment. Kartik Refrigeration have fulfilled to customer expectation since 2003.
Our Products are well furnished design to maximize temperature + 0.10 C stabilization can exceed more than 14 years. We produced wide range of customer's expectations. We meet to the customer and know their exact requirement of specification for Air cooled Chiller and Water cooled Chillers etc.
Since 2003 Kartik Refrigeration has proven to be a reliable supplier of Laser Chillers and Heat Exchange equipment for a number of laser applications. Kartik Refrigeration will build a standard system for you or, if needed, design to customer requirements for size, portability, operating conditions, thermal load, and system footprint.
We were able to take customer requirements, design the system, and place a large cooling capability in a small package.
A laser chiller is the main component and the most important device used in managing laser temperature to insure high quality performance and long life of industrial lasers, medical lasers, military lasers and other laser systems. Laser chillers, Portable Chillers, Water Chillers and Heat Exchangers are completely self-contained devices, able to remove heat from laser heat-dissipating components.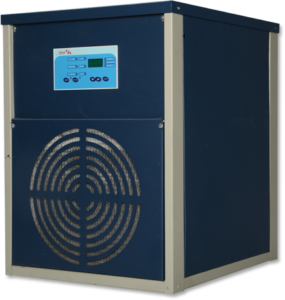 Industrial laser technology requires precision automated processing for high speed and high accuracy cutting, perforating, welding, laboratory environment, and other specialized processes.
The engineers at Kartik have many years of experience in the design of process heating and cooling systems for lasers, welding, semiconductor, plastics, and many other applications. Our engineering services include both basic heat and mass transfer calculations, as well as cooling system design.
Our cooling systems feature easy-to-use standardized control components which are time tested and widely available throughout the global marketplace to create a heat transfer system that is engineered for years of reliable service. All of our chillers and heat exchangers feature a full one-year parts and labor warranty.
Kartik Refrigeration equipment is backed by customer service and support which is second to none. In the unlikely event that you experience difficulties with your Kartik equipment, rest assured our knowledgeable staff of engineers and technicians are available to assist you. Our telephones are answered by people, not computers. Our goal is the complete satisfaction of our customers.
We are positioned to continue meeting the needs of our customers now and into the future. Our commitment to providing quality heat transfer products that fulfill the ever-increasing demands of new and innovative applications remains paramount to our success.
After successive result in Indian Market, Kartik is now a worldwide supplier shipping its products throughout the global marketplace.
Industrial Instrumentation
Fiber Chiller
CO2 Laser Chiller
Metal Fabrication Laser
Digital Printing
Security X – Ray Scanning
Healthcare Dignostics & Treatment
Radiation Therapy
Medical Imaging
Medical Laser
Skin Treatment Laser
Semiconductor Fabrication
Plasma / Wet Etch
Lithography
Metrology
Chemical / Physical Vapor Deposition
Vision:
To be the world leader in laser chillers
Mission:
The mission of Kartik Refrigeration provided high quality dependable products. Our focus is to serve a diverse market through customer satisfaction, innovative ideas and flexibility
Creative:
We develop compact and well designed Chillers and it's efficiently is excellent and easy operated system provided the best example in this region.
Innovation:
We provide constantly quality improvement and innovation technology application for the Industry.
Process:
We process deeply and mutual growth and development with reliable solution on time.
Consistency:
Our technology is the based on eco-friendly environment.
We provide better quality and service to customer with reasonable cost.
Customers' satisfaction and appreciation is our main assets.
We provide employ health and workplace safety along with environments.
Quality Product:
We manufacturer and set up our product is art and our company is to receive the CE certification No. 1116 for LASER CHILLER Model: KLC 005.
Our Quality Management System is certified for ISO 9001 – 15
Known as "Laser Chillers" in Laser industries in India; our special range is 0.5kW ~ 3kW